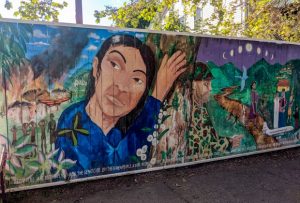 With the help of local artist Dan Burgevin, local teens designed and painted a mural at the corner of Seneca and Geneva streets depicting their families' journeys as refugees from Burma (also known as Myanmar).
The mural's three panels tell the story of how these families escaped genocide in Burma by fleeing to refugee camps in Thailand.
The idea for the mural came while the teens were on a camping retreat with the 4-H Urban Outreach and Primitive Pursuits programs. During a Diversity and Inclusion workshop, Karen and Burmese campers began talking about their experiences, and this eventually led to the creation of the mural.
Refugees from Burma first began arriving in Ithaca in 2006. Many of the teenagers who helped create the mural have been involved with the SIFE and 4-H Urban Outreach programs at Cornell Cooperative Extension of Tompkins County for more than 10 years.